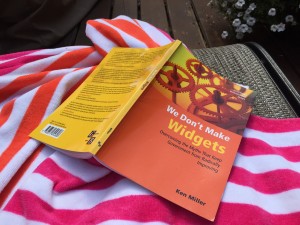 I read Ken Miller's "We Don't Make Widgets: Overcoming the Myths that Keep Government from Radically Improving" while on vacation this summer. I reluctantly picked it up thinking that it would be hard to finish a book about the business of government while lounging by the pool but I was pleasantly surprised to not only finish it in a day but also enjoy it.
At a manageable 116 pages it's a short read, filled with real-life, often humourous example of inefficient government processes from the point of view of both citizens and public servants. Ken draws on his many years of experience applying Lean in the public sector to poke holes in the argument that government is different than the private sector and shows, step-by-step, that success is possible if you apply sound strategy, common sense and measure results as you go.
This book should be required reading for anyone who works in government as it is a practical starting point for anyone interested in improving how they deliver their "widget".
Ken will be in Ottawa on October 22 to deliver the keynote address at Lean Government Week, October 19 to 23, 2015. He'll be talking about the application of lean to non-transactional work based on "We Don't Make Widgets".